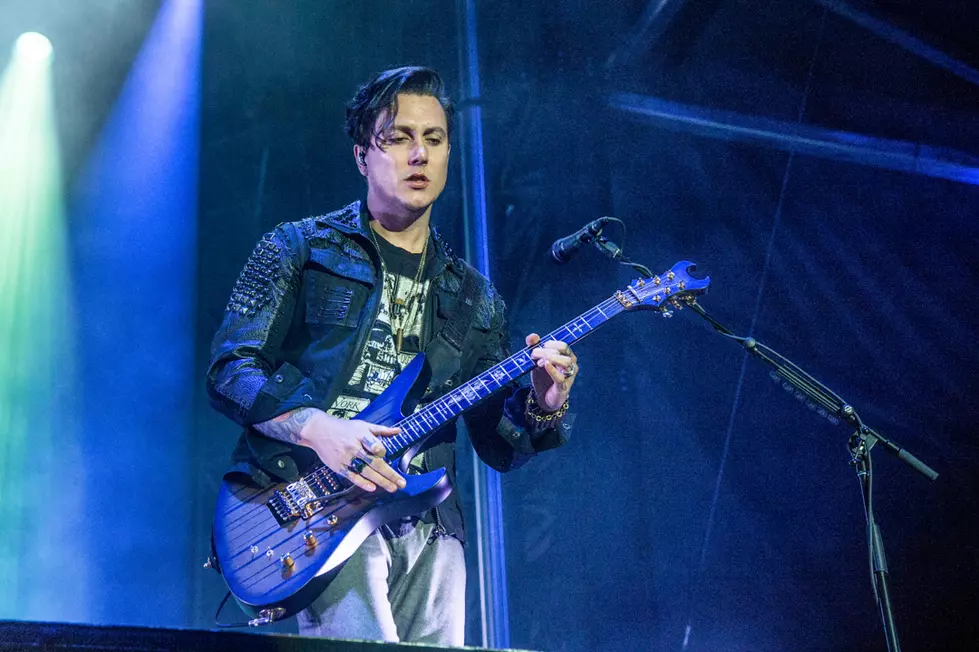 Avenged Sevenfold to Miss Metallica Show as Synyster Gates Welcomes Birth of First Child [Update]
Amy Harris, TheFirst3Songs.com
Update: Avenged Sevenfold have announced a June 21 makeup date for their show at BB&T Pavilion in Philadelphia for anyone who missed the band on the Metallica "World Wired Tour." The band promise the "Full Stage Experience" for fans at the show and ticketing details will be announced this Monday (May 15).
Metallica's North American leg of their "WorldWired" tour with Avenged Sevenfold, Volbeat and Gojira launched earlier this week. The run has hit a snag of sorts, however, as Avenged Sevenfold will be forced to miss tonight's (May 12) concert in Philadelphia.
The band posted a message on Facebook (seen below), explaining that there's good reason for having to opt out of their scheduled performance and that they'll be ready to get back onstage on Sunday (May 14). The statement reads:
Sending love to our brother Synyster Gates, who flew home to be with his wife Michelle, who unexpectedly went into early labor with the birth of their first child. Unfortunately, this also means we won't be able to play tonight's gig with Metallica. We'll miss seeing you all but know you're in for an incredible show with the mighty Metallica and Volbeat. Please join us in welcoming the newest member of the A7X family and thanks so much for your support and understanding. We'll see you all Sunday in New Jersey.
It's tough news for those hoping to catch Avenged Sevenfold, but certainly understandable as balancing life on the road and a family is a constant struggle for touring musicians. Congratulations to the couple and well wishes on starting their new family!
Avenged Sevenfold will be appearing on select dates as direct support for Metallica throughout the summer and will mix in a number of their own headlining stops as well. A list of all upcoming dates can be found at our 2017 Guide to Rock + Metal tours and please check listings carefully as lineups vary from show to show.
Avenged Sevenfold Albums Ranked
10 Unforgettable Synyster Gates Moments