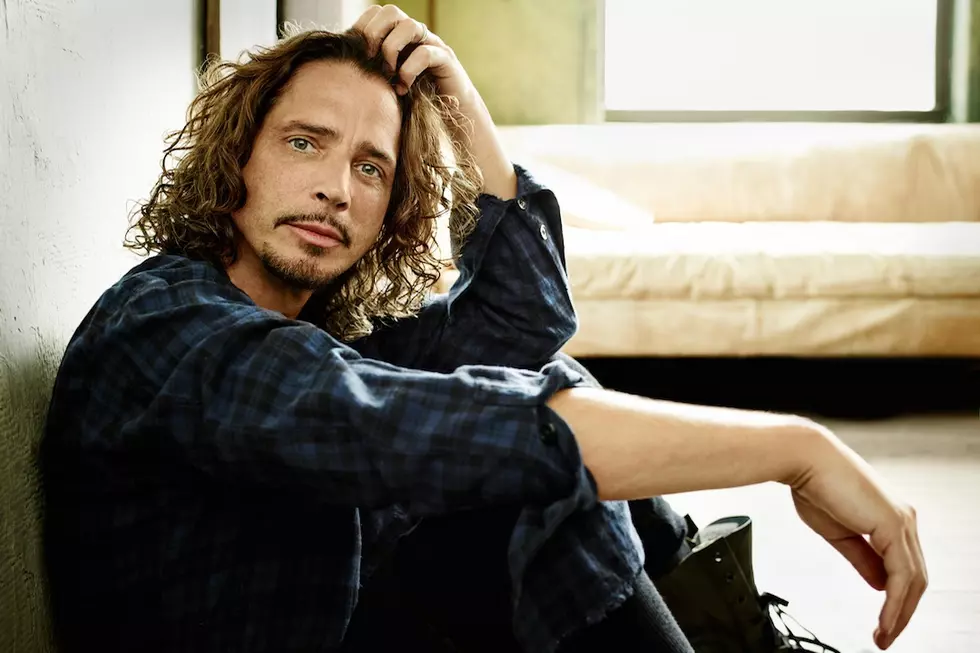 Chris Cornell's Widow Believes Prescription Drug Ativan May Have Contributed to Soundgarden Frontman's Death [Update]
Universal Music Enterprises
Update: According to a police report obtained by the Detroit News, Chris Cornell's wife Vicky had asked for his bodyguard Martin Kirsten to check on the singer after having a conversation with her husband in which her "groggy" husband kept repeating "I am just tired" before hanging up the phone. When the bodyguard arrived just after midnight, the door was locked. Kirsten reportedly kicked in the door, only to find another door to the bedroom suite also latched. He kicked that door in as well and discovered Cornell slumped on the bathroom floor.
According to the report, Kirsten had also seen Cornell not long after the show at 11:30PM helping him to fix his computer. The bodyguard had given Cornell two Ativan pills which he takes for anxiety. According to the report, Vicky Cornell spoke to her husband around 11:35PM and at 12:15AM she called Kirsten. A medic arrived at 12:56AM with EMS arriving a few minutes later and attempting to perform CPR before the singer was pronounced dead at 1:30AM.
The widow of Chris Cornell, Vicky, has issued a new statement on the death of her husband. In this new press release, Vicky and the Cornell family's attorney believe the prescription drug Ativan could have contributed to Chris Cornell's death.
Chris Cornell died on May 17 shortly after a performance in Detroit. The Wayne County Medical Examiner's Office has ruled Cornell's death as "suicide by hanging," but Vicky believes the ruling could be premature, as toxicology tests on Cornell's body have not yet been completed.
"Without the results of toxicology tests, we do not know what was going on with Chris -- or if any substances contributed to his demise," Cornell family attorney Kirk Pasich argued in his own statement Friday. "Chris, a recovering addict, had a prescription for Ativan and may have taken more Ativan than recommended dosages. The family believes that if Chris took his life, he did not know what he was doing, and that drugs or other substances may have affected his actions."
Ativan is used to treat seizure disorders, but can also be used in regular doses to relieve anxiety. Potential side effects of the drug include paranoid or suicidal ideation and can impair memory, judgement and coordination.
"Chris' death is a loss that escapes words and has created an emptiness in my heart that will never be filled," Vicky adds. "As everyone who knew him commented, Chris was a devoted father and husband. He was my best friend. His world revolved around his family first and, of course, his music, second. He flew home for Mother's Day to spend time with our family. He flew out mid-day Wednesday, the day of the show, after spending time with the children. When we spoke before the show, we discussed plans for a vacation over Memorial Day and other things we wanted to do. When we spoke after the show, I noticed he was slurring his words; he was different. When he told me he may have taken an extra Ativan or two, I contacted security and asked that they check on him. What happened is inexplicable and I am hopeful that further medical reports will provide additional details. I know that he loved our children and he would not hurt them by intentionally taking his own life." [via UPI]
Cornell left behind three children aged 16, 12 and 11. The rock world has been paying tribute to Chris Cornell ever since the news of his death was made public. Stay tuned to Loudwire for further updates on the passing of Soundgarden's iconic frontman.
10 Unforgettable Chris Cornell Moments
Rockers We've Lost in 2017