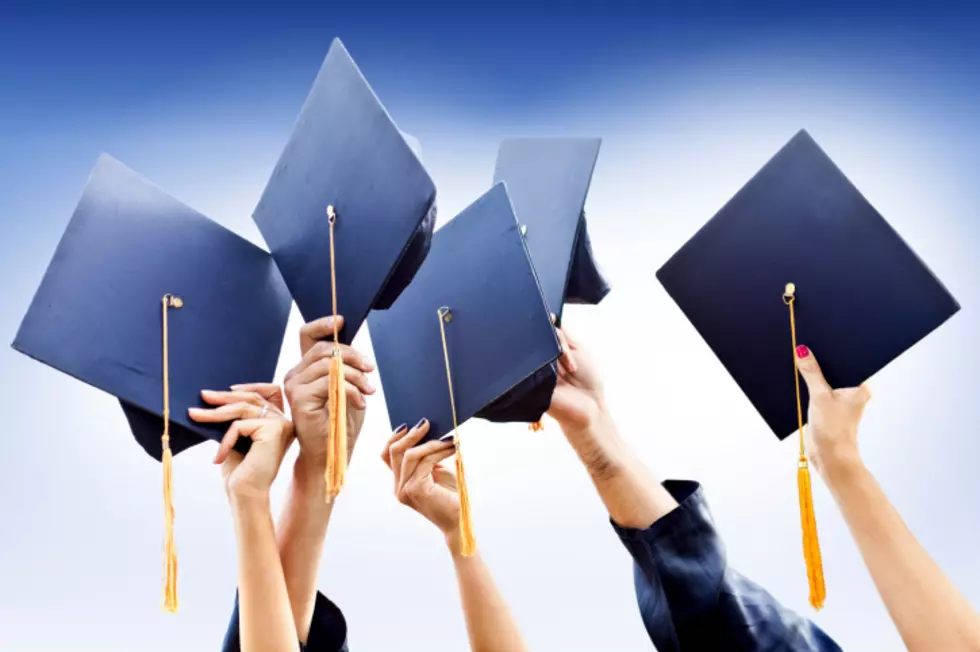 Texas Tassels: Vibrant Shades of Graduation Style
Credit: Getty Images
Ah yes, it's the time of year where the most played song in just about any city or state is Pomp & Circumstance. Not familiar with the title? It's the song that gets played at every single school graduation that takes place.
Yeah, that one. If you have a child walking that stage, it's the greatest sound in the world. All those years of hard work raising them comes to fruition. You got them through school, so congrats to you!
One of the biggest things for kids though, and especially the girls, is what color am I wearing underneath this traditional black graduation gown? Guys will typically just throw on some nice slacks and a collared or button down shirt. We don't stress about it too much.
The girls though want to look their best on this big day. The most popular garment of clothing chosen is a dress, and when it comes to that dress, the color is the most important thing.
The good people at Karen Millen took some time and analyzed the average number of monthly Google searches when it came to graduation dress colors, and here are the most popular ones in Texas.
#1: BLACK
This is the most popular color in the state. It's classic, it's not going to clash with the black graduation gown and it always looks good in pictures. With a black dress, you can pair up literally anything with it and it's going to match and look good. Wear black, pick anything. Seems like a pretty good combination to me.
#2: WHITE
White is another one of those classic colors but it signifies a fresh start. That's why wedding dresses are traditionally white, because you're starting a new life with the person you hope is your forever, right? Graduating from school says the same thing, new adventures, a new phase of life. White is also another one of those colors that you can pair anything with, so don't hesitate to put on that white underneath your robe!
#3: GOLD
Now we're starting to get a bit more adventurous. Gold screams champion, and that's what we all feel like when we get to graduation day. Gold will go beautifully with that black robe, and it'll pop. People will notice you but it'll also make you look your best, especially if you have a nice, warm skin tone.
#4: PINK
Feeling fun & flirty on your graduation day? Pink is your color then. The contrast between the brightness of the pink and that black robe will have people talking about you and spotting you in any crowd. You're not just wearing a color, you're saying "life is good" or "I'm looking forward to my graduation party after this". Don't be shy, go ahead and let that pink say something!
#5: RED
It's bold, it's assertive, it's red. And it looks DARN good up against that black robe. Red is what we like to call a power color, and after graduating school, you should feel like a powerful person. It's hard work getting through school, so let people know you're ready to take the world by storm.
Inside Amazon: A Detailed History of America's Biggest Online Retailer
Stacker
compiled a list of key moments in Amazon's history and its current business from a variety of sources. Here's a look at the events that turned an online bookstore into a global conglomerate and a self-made entrepreneur into the world's second-richest man.
LOOK: Here are the biggest HBCUs in America
More than 100 historically Black colleges and universities are designated by the U.S. Department of Education,
meeting the definition
of a school "established prior to 1964, whose principal mission was, and is, the education of black Americans."
StudySoup
compiled the 20 largest historically Black colleges and universities in the nation, based on 2021 data from the U.S. Department of Education's
National Center for Education Statistics
. Each HBCU on this list is a four-year institution, and the schools are ranked by the total student enrollment.