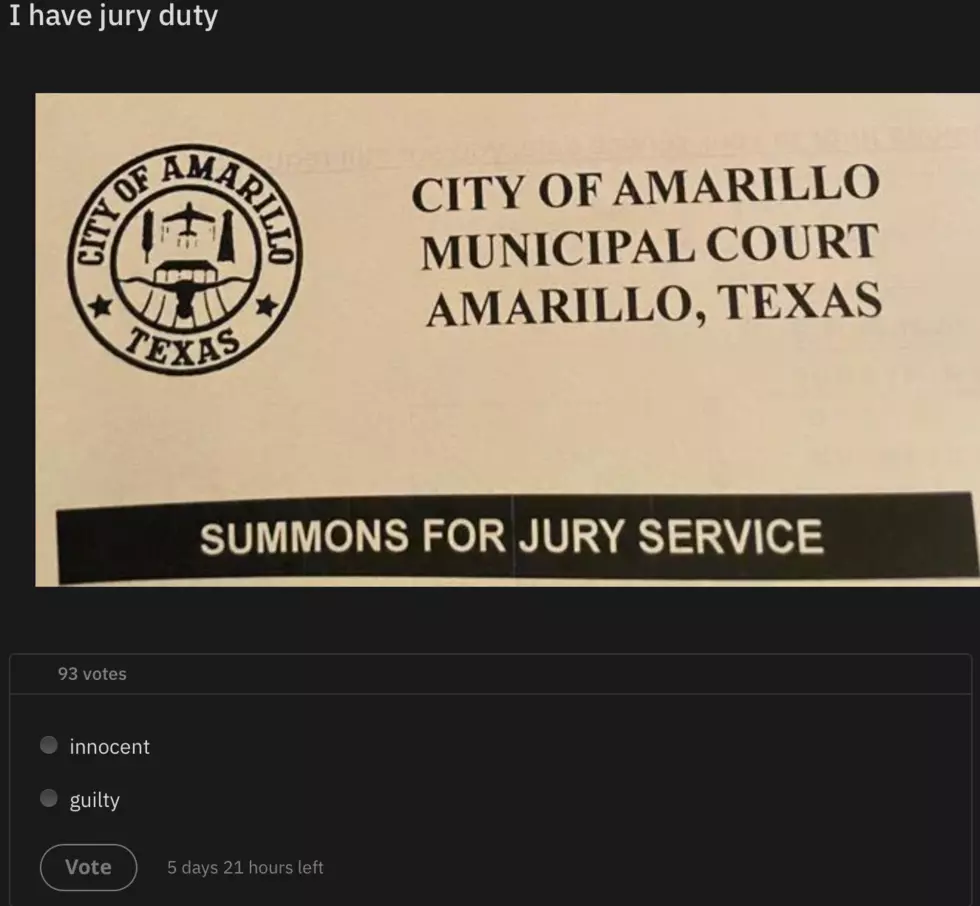 Amarillo, Please Don't Decide a Verdict Off an Online Poll
RearEndedInAmarillo, Reddit
Love it or hate it, jury duty is a responsibility of all citizens and is something that we will have to participate in at some point. Reguarless of how you feel about it, a certain degree of seriousness and impartiality should be held in relation to whatever case you are appointed to sit on.
I don't think this appointed member of an Amarillo jury got that memo though....
On r/amarillo user RearEndedInAmarillo made a post titled "I have jury duty" with a picture of his summons for jury service and an ultimatum for users viewing the post. In a poll below users can either pick "innocent" or "guilty".
Once you vote on the poll, the current poll numbers will reveal themselves. With 37 voting innocent, and 59 guilty, it seems that whatever case the user is presiding over, the defendant is guilty.
Now, I'm no expert in law but I believe that common sense can this may not be the best idea when it comes to being on jury duty.
And the comments have similar opinions about this poster and his dilemma
 

You are a complete and total idiot.

-donotmatthews

 

 

 

Hope is doesn't get traced back, that's a mistrial.

-Expensive-advice-270
Dude what is wrong with you? "Oh better let Reddit decide some dude's punishment."

-Bongwater-jones
Whether the original poster is serious or not about basing his opinion is unknown, but if he does decide to go through with this and it is traced back to him, chances are that he could be responsible for a mistrial.
So to user RearEndedInAmarillo, if you are not joking about this it might be in your best interest to rethink your decision-making in this instance. And to Amarillo, please don't take this guy's example.
7 Weird Texas Laws That Actually Exist
There are plenty of lists of 'crazy Texas laws' that you can find online. Unfortunately, a lot of those 'laws' don't actually exist, or they were appealed a long time ago. However, there are plenty of laws that do actually exist and seem pretty silly. Some of them are very self-explanatory, while others are oddly specific. These are a few weird Texas laws that actually exist.
RANKED: America's Top 12 Best-Looking State Trooper Cruisers
Did you know that there is a brotherhood of state troopers called the American Association of State Troopers (AAST)? Their goal:
PROTECT. PROVIDE. CONNECT
.
According to their website
the AAST was formed in 1989 when a "small group of Florida state troopers had the vision to create an association that would unite state troopers across the country and assist them by providing valuable benefits and services."
Each year the AAST releases a calendar of the best looking state trooper cruisers. Ranking is determined by their Facebook followers. It's all for a great cause too. Proceeds benefit the AAST Foundation, which provides higher education scholarships for AAST troopers' children dependents. A noble cause by any measure.
TX Senate Bill 3 Passed: These Historical Subjects Would No Longer Be Teaching Requirements in TX Schools
Texans who disagree feel that removing these teaching standards are a step in the wrong direction and may lead away from educating our children about the diversity of American citizens and their histories.
States Where Recreational Marijuana is Legal
A fun collection of facts and photos! Learn which states have legalized recreational marijuana and when, plus some weed facts you may have never known.
7 Wacky Google Reviews of the Lubbock Police Department
There's a lot going on here.