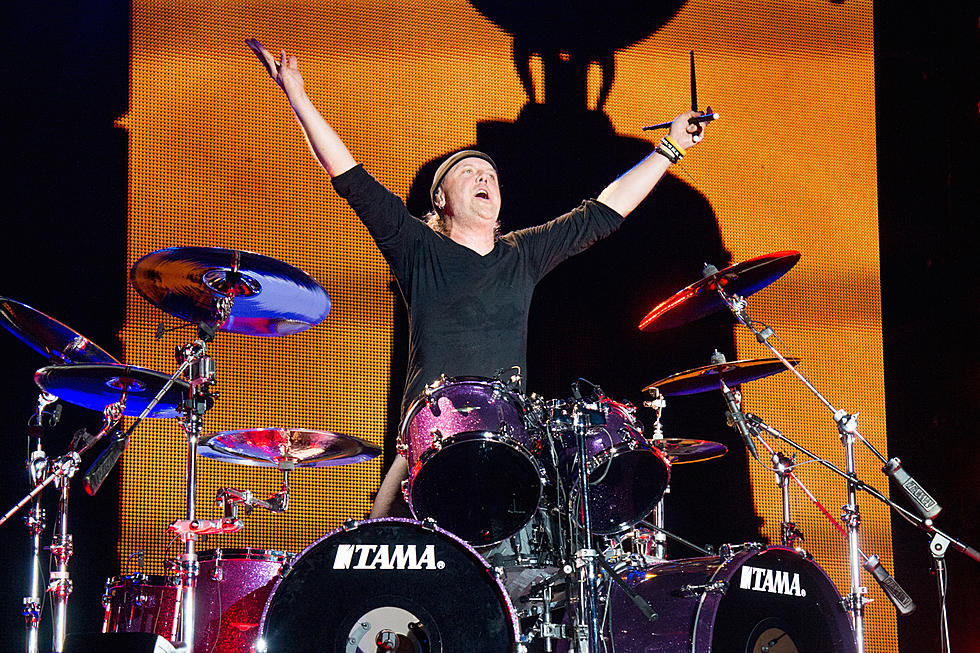 Metallica's Lars Ulrich Recalls Paul McCartney Beating Him to Stage to Jam With U2 Members
Amy Harris for Loudwire
Sometimes you find yourself in the right place at the right time. Well, almost in the case of Metallica drummer Lars Ulrich when it came to the opportunity to sit behind the kit onstage with U2's Bono and The Edge.
In a new edition of Ulrich's Beats1 radio program It's Electric!, Foo Fighters mainman Dave Grohl stopped by and the two wound up trading stories about Paul McCartney. Grohl first detailed the time the Foos served as the backing band for Rolling Stones frontman Mick Jagger on Saturday Night Live! in 2012 and recording with the Beatles legend for the Sound City soundtrack.
Ulrich took his turn next, recalling the time he was at an event where Bono and The Edge were performing. Noticing there was a vacant rhythm section on stage (drums and bass), the Metallica skinsman went to seize the moment. "I'm like, 'This is my chance to drum in U2 with Bono and The Edge. And I start building up the courage. I'm standing at the back hoping nobody will see me and I'm going to start walking up and right as I start this other guy is five feet ahead of me and walks up and I can't see who it is," Ulrich said (transcription via Rolling Stone). "And then he goes up and sits behind the drum kit up there and it's Paul McCartney. I say, 'Wait a minute. I'm supposed to play drums in U2. That was my shot!' Then I ran screaming out of there and haven't been back since," he continued.
Ulrich described the jam, adding, "But [McCartney] is a great drummer. He had a great pocket. It was super cool. They did a couple of songs and it was Bono, The Edge and McCartney on drums it was crazy. It was so cool because there was no phones allowed... and it was just something that existed in the people's minds that were there."
Where Does Lars Ulrich Rank Among the Top 66 Hard Rock + Metal Drummers of All Time?
10 Unforgettable Lars Ulrich Moments