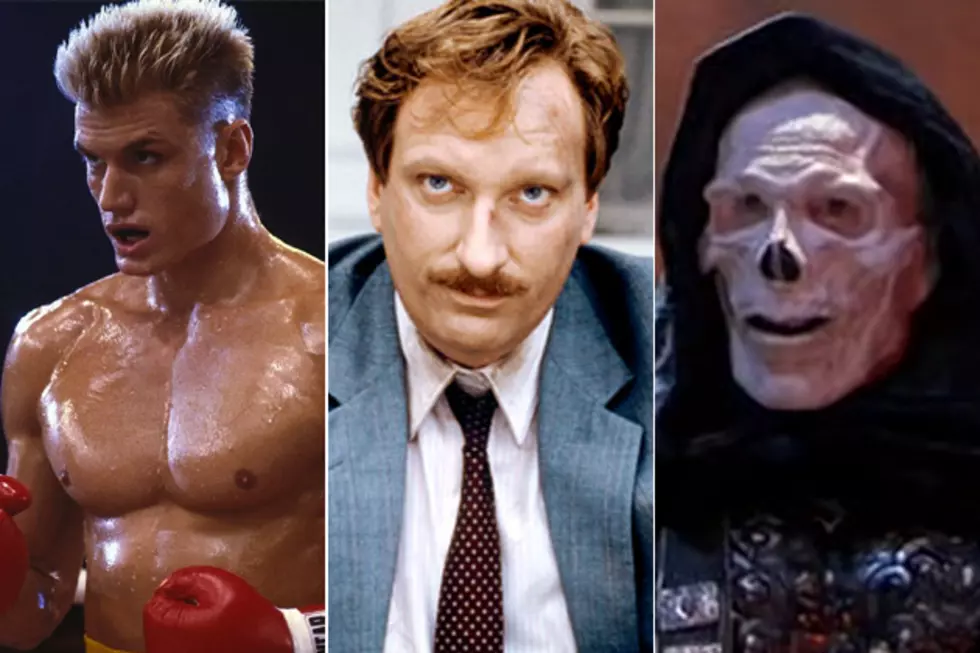 Famous Movie Bad Guys Then and Now
MGM / Paramount / Golan Globus Productions
The bad guys (or occasional girl) from the films of our childhood were memorable characters we won't be forgetting anytime soon. Let's take a look at some of our favorite villains from days gone by and see where they are now. We promise they're (mostly) much less scary in real life.
Dolph Lundgren -- Ivan Drago

'Rocky IV'

MGM / Frederick M. Brown, Getty Images

Then: Playing the imposing Russian nemesis Ivan Drago, Lundgren kicked off his film career with a bang ('Rocky IV' was his second film). Drago was a quiet one, mainly because whenever he spoke something terrifying came out.

Now: Since his 'Rocky' days (and receiving a master's degree in chemical engineering), Lundgren has starred in over 40 films, mainly action. He finds himself categorized alongside Sylvester Stallone, Jean-Claude Van Damme, Bruce Willis and Arnold Schwarzenegger in 'The Expendables' franchise and still cranks out 'Universal Soldier' sequels. Oh, and a mere photo of him once scared off burglars.

Christopher McDonald -- Shooter McGavin

'Happy Gilmore'

Universal Pictures / Jamie McCarthy, Getty Images

Then: The slimy pro golfer from 'Happy Gilmore' was one of the biggest jerks from our childhood. Actor Christopher McDonald flawlessly portrayed the unlikable Shooter McGavin, the one out to screw Happy from the jacket, the trophy and the sport of golf altogether.

Now: Apparently, his bad guy image is just acting -- word is that McDonald is a very likable fella. His career has been fairly consistent as well. Most recently he played Harry Daugherty in HBO's 'Boardwalk Empire' and still pops up on several TV shows.

John Vernon -- Dean Vernon Wormer

' Animal House'

Universal Pictures / Jeff Kravitz, Getty Images

Then: Dean Wormer spent the entire 'Animal House' film looking for a reason to shut down the Delta Tau Chi fraternity. Unfortunately for him, he succeeded near the end and, as a result, was thoroughly upset and embarrassed at the demise of his beloved homecoming parade.

Now: Wormer wouldn't be his only villainous role -- he was also baddie Mr. Prindle in 'Herbie Goes Bananas' and Sherman Krader in 'Ernest Goes to Camp.' He worked into his early 70s, until he passed away at the age of 72 in 2005.

Alan Rickman -- Hans Gruber

'Die Hard'

20 Century / Tim Whitby, Getty Images

Then: Perhaps the ultimate bad guy of the '80s, Alan Rickman played Hans Gruber in 1988's 'Die Hard,' the German terrorist attempting to snag some riches from Nakatomi Plaza. The role would be Alan Rickman's first film credit (at the age of 42), setting off a long and successful career.

Now: Hans Gruber circa 2013 is doing pretty well. His appearances in the 'Harry Potter' films alone are all the success any actor needs, but Rickman's credits definitely don't stop there. With a resume that includes 'Love Actually,' 'Sweeney Todd,' 'Robin Hood: Prince of Thieves' and 'Sense and Sensibility,' Rickman has played his fair share of iconic villains and rogues.

Brigitte Nielsen -- Karla Fry

'Beverly Hills Cop II'

Paramount / Tim Whitby, Getty Images

Then: In 'Beverly Hills Cop II,' Nielsen's character Karla Fry was one bad apple who had no problem taking a life or two. Previously, she had been in films such as 'Red Sonja,' 'Cobra,' and even 'Rocky IV' (as the wife of Lundgren's Ivan Drago), so it was no shock to see her in this role.

Now: These days, Nielsen is more of a reality television and B-movie "star." A few years ago she made headlines during her rocky relationship with none other than Flavor Flav. It was...weird.

Jeffrey Jones -- Principal Ed Rooney

'Ferris Bueller's Day Off'

Paramount / Frederick M. Brown, Getty Images

Then: From beginning to end, Principal Rooney had it in for Ferris Bueller. He epitomized evil principals and authority figures in general to every nine-year-old who watched 'Ferris Bueller's Day Off.' Before this film, which made him something of a pop culture icon, he was notably in 'Amadeus.'

Now: You know how it goes with some actors, you make a little money, get in some hits and then get arrested for soliciting underage photographs. Wait, what? Yes, unfortunately, this happened to Jones, who was arrested in 2004. The charges were dropped but he was sentenced to probation. His only notable onscreen credit in the past decade or so was as A.W. Merrick on 'Deadwood.'

Ben Gazzara -- Brad Wesley

'Road House'

Silver Pictures / Mike Fuentes, Getty Images

Then: That's right, independent film legend Ben Gazzara played the bad guy in 'Road House.' Gazzara was a longtime collaborator with director John Cassavetes, and, in addition to being a successful theater actor, had worked with Laurence Olivier and Peter Bogdanovich before leaping into the role of Brad Wesley. Why aren't you watching 'Road House' right now? He's amazing in it.

Now: Gazzara's acting career began in 1953, and he had an impressive stage and film career (remember him in 'Buffalo '66' and 'The Big Lebowski'?) before he passed away in 2012 at the age of 81.

Dan Hedaya -- Arius

'Commando'

SLM Productions / Taylor Hill, Getty Images

Then: Sometimes actors become known for only playing villains and lowlives. Such is true for actor Dan Hedaya, who has played numerous sleazeballs -- including roles in 'Wise Guys,' 'Blood Simple' and even 'Cheers.' For this list, we'll choose to remember his role as the evil dictator Arius in the 1985's Arnold Schwarzenegger-fronted 'Commando.'

Now: Hedaya has had a striking career that spans over 40 years, continuing today with recent appearances in 'Person of Interest,' 'Monk' and 'ER.' He also starred in 'The Usual Suspects' and played Alicia Silverstone's dad in 'Clueless,' one his few non-sleazebag roles.

Grace Jones -- May Day

'A View to a Kill'

IMDB / Jacopo Raule, Getty Images

Then: The once-upon-a-time girlfriend of Dolph Lundgren, Grace Jones played May Day in the James Bond 'A View to a Kill' film. May Day was the mysterious bodyguard of businessman Max Zorin (Christopher Walken) who sacrifices her own life to save others. So...not all bad.

Now: As of late, Jones has been performing (she is also a famed singer) all across the world, performing a sold-out show in 2012 at New York's Roseland Ballroom. Known for her androgynous style, Jones is said to have inspired the likes of Annie Lennox, Lady Gaga and even Rihanna.

Frank Langella -- Skeletor

'Masters of the Universe'

Golan Globus Productions / Tim Whitby, Getty Images

Then: It's a long way from his Oscar-nominated role in 'Frost/Nixon,' but believe it or not, Frank Langella played Skeletor in 'Masters of the Universe,' which also starred Dolph Lundgren. As the archenemy of He-Man, Langella succeeded in wreaking some serious havoc on Earth and freaking out costar Courteney Cox. Prior to Skeletor, Langella played another famous baddie -- Dracula in the famed Broadway production and 1979 film.

Now: Langella managed to escape the box office bomb that was 'Masters' unscathed, and credits include roles in 'Superman Returns,' 'Wall Street: Money Never Sleeps' and of course, 'Frost/Nixon.' There was also a period where he was dating Whoopi Goldberg, which was a bit odd even for Frank Langella.

Robert Patrick -- T-1000

'Terminator 2: Judgment Day'

Carolco Pictures / Jason Merritt, Getty Images

Then: Ending our list is Robert Patrick, who played perhaps one of the most intimidating Terminators around. As T-1000, who was sent to eliminate John Connor, Patrick perfectly played the calm killer-type. It wouldn't be his only role in the villain chair.

Now: Patrick's career as a supporting actor has continued to be successful, especially in the genre of science-fiction and martial arts. Most recently, Patrick appeared on 'True Blood' and has several films in the works.