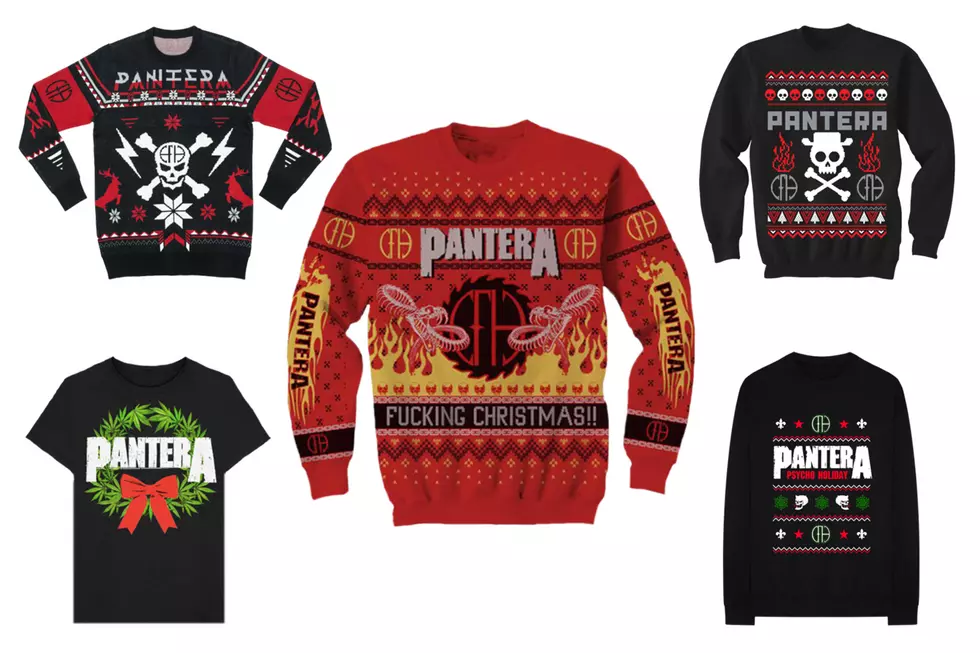 New Pantera Christmas Sweaters Are Here
panterastore.com
This holiday season, some of you will be far from home, but hopefully not spending time alone... And with the obligatory pun out of the way ("Psycho Holiday" anyone?) here's the new line of holiday merch from the Cowboys From Hell, those Great Southern Trendkillers — Pantera.
Some headbangers can be reluctant to keep the tattered jeans and sleeveless metal shirts in the closet when it comes time to visit family around the holidays, but Pantera fans can do things on their own terms this time around. The Texas groove legends have added five new holiday clothing items to their webstore by way of two crewneck sweatshirts, a wreath t-shirt and knit sweaters. If you're feeling bold, maybe grab yourself the one that exclaims "FUCKING CHRISTMAS!!" on the front.
The prices range from $30 to $85 and they can all be purchased here.
This year has been a tough one for Pantera fans as the world lost Vinnie Paul on June 22. While many had been hopeful that a reunion in any capacity would take place, those dreams were dashed when the drummer passed and was laid to rest beside his brother Dimebag Darrell. He was just 54 years old.
14 Ugly Rock + Metal Holiday Sweaters