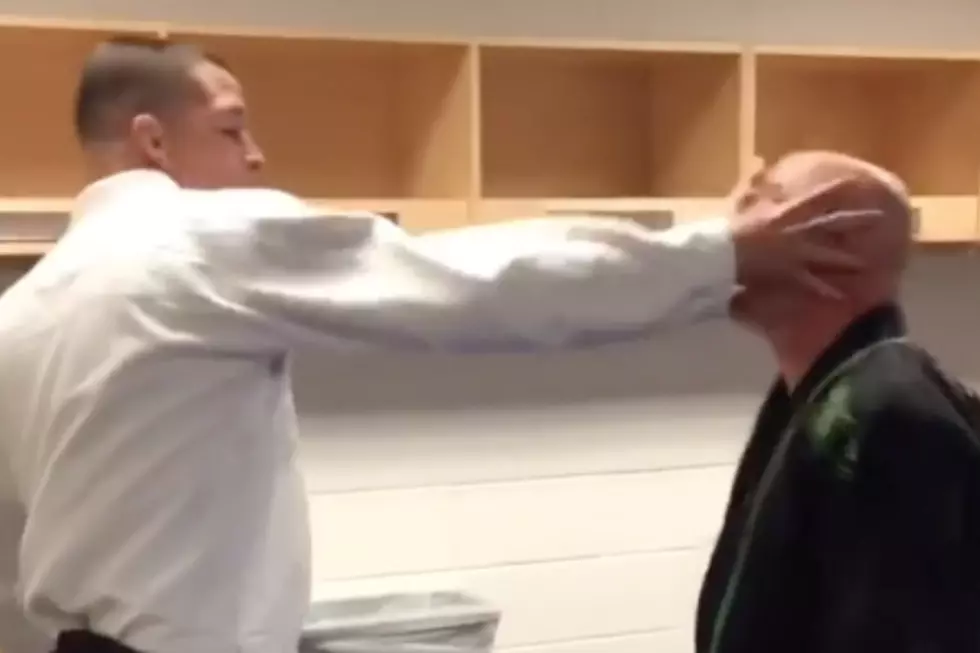 Watch Maynard James Keenan Get Slapped to the Ground by UFC Fighter Nate Diaz
MMA Imports
Cue Joe Rogan voice: "Oooooooooooohhhhhh!" Maynard James Keenan was on the receiving end of UFC fighter Nate Diaz's "Stockton slap" and the musician hit the canvas.
Tool / A Perfect Circle / Puscifer legend Maynard James Keenan has been a longtime practitioner of martial arts, notably Brazilian jiu jitsu. The singer is a purple belt in the disciple, an accomplishment that takes years and years to achieve. Unlucky for Maynard, Nate Diaz is a black belt under the iconic Gracie family and a master in slapping fools inside the UFC octagon.
If you're a fan of either Nate or older brother Nick Diaz, you're always waiting for the elite brawlers to engage in some devastating mental warfare. One signature method is the "Stockton slap," which is basically bitch-slapping an opponent in the octagon. Nate has utilized the tactic in marquee fights against fighters like Conor McGregor and Rafael dos Anjos, so Maynard Keenan wanted to see if his face could endure the assault.
In a video uploaded by MMA Imports, Keenan challenged Diaz. "I am requesting for him to explain to me what the f—k a Stockton slap is," Keenan says. "I don't know what the f—k it is. What the f—k is a Stockton slap?" Nate replies, "I didn't want to do this," before delivering a monstrous blow that left Maynard spiraling out… toward the floor.
Watch these two martial artists engage in primal warfare above!
10 Things To Learn About Maynard James Keenan by Who He Follows on Twitter
12 Unforgettable Maynard James Keenan Moments