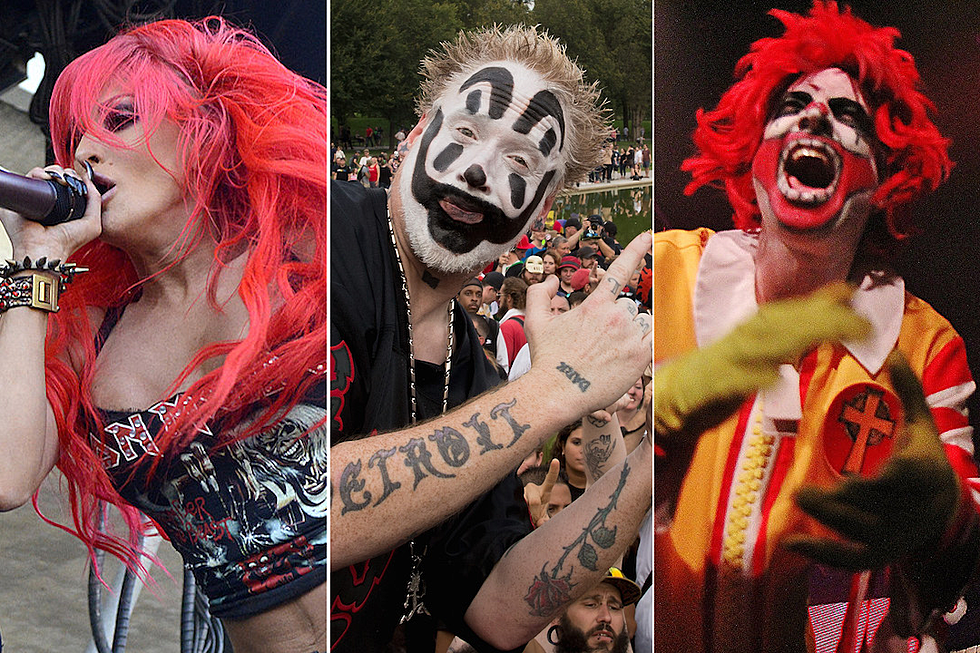 Butcher Babies, Mac Sabbath Booked for 20th Annual 'Gathering of the Juggalos'
Liz Ramanand, Loudwire / Tasos Katopodis, Getty Images / Tim Mosenfelder, Getty Images
While the annual Gathering of the Juggalos festival doesn't lean too heavily in the rock or metal direction, there's always a handful of acts from our world that wind up on the bill. This year, which marks the fest's 20th anniversary, features acts like Butcher Babies, Mac Sabbath and others.
Butcher Babies, who last released Lilith in 2017, will be playing the Soopa Stage, starring other big name acts like Bone Thugs-N-Harmony, Ghostemane, Tech N9ne and Insane Clown Posse.
Meanwhile, Mac Sabbath, the fast food themed Black Sabbath parody group, will hit the Shazam Stage alongside acts such as City Morgue and Kung Fu Vampire while Summoner's Circle and A Feasting Beast will play at the Cannibal House during the night and day respectively.
See the full lineup below.
This year's Gathering of the Juggalos will be held from July 1 through Aug. 4 at Shimmer Forest in Springville, Indiana. For more information, head to the festival website.
Anybody Killa
Bone Thugs-N-Harmony
Big Hoodoo
Butcher Babies
Ghostemane
Insane Clown Posse
Jedi Mind Tricks
Lyte
Ouija Macc
Soopa Villains
Tech N9ne
Token
City Morgue
DJ Clay
Kingspade
Kung Fu Vampire
Mac Sabbath
Madchild
Oddsquad Family
Shakewell
ICP's Strums And Drums Acoustic Performance
Zug Izland (performing "Cracked Tiles")
American Slang
Deviant
Grlwood
J Payne
J. Irja The Sexy Psycho
Jumpsteady
Riddy K
Summoner's Circle
Super RO Ft. Wiley F.L.E.W. Tribute
The Jasons
Trouble Loc
Xtra Overdoze
A Feasting Beast
Abstrakt
Alex Jonestown Massacre
Bulletproof & The Fool
Demented Naychir
Discord Curse
Flock To Murder
Illest Uminati
Infamous
Insidious Flow
J Biz R w/ Da Sniper 614
Knowledge Da MC
Madopelli Music
Mark Bone
Mereness
Meth
My Own Will
Problemattik
Scattered Hamlet
Skitzo
Trip God
Festival Guide: 2019 Rock + Metal Festivals in the U.S. + Abroad