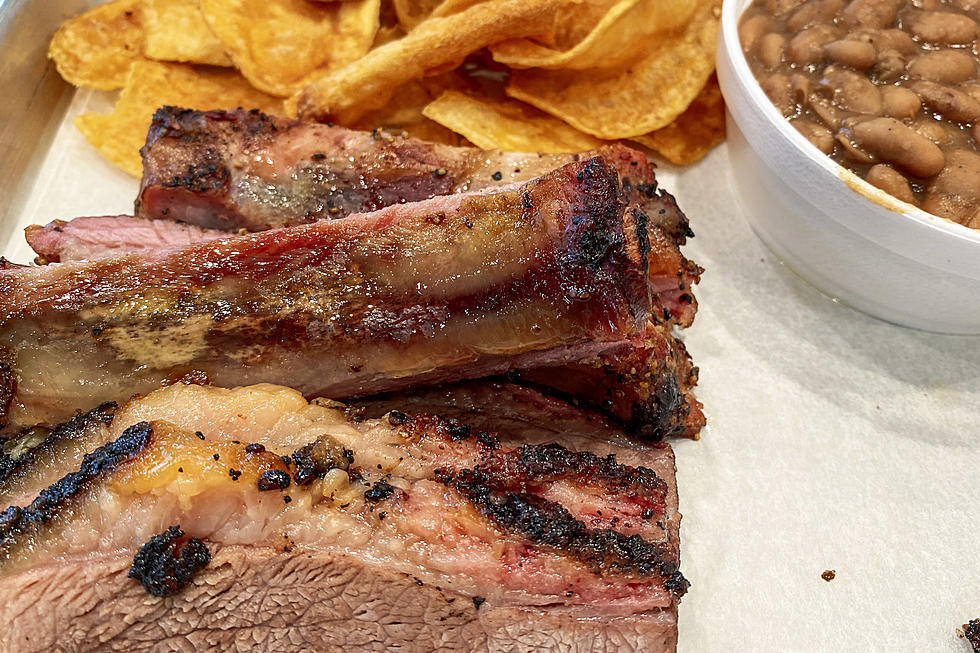 Don't Call Amarillo's Mitch's BBQ Gas Station Food…
Michael J. Rivera/TSM
I had a good recommendation from someone to make a trip to Mitch's. The barbecue stand lives inside the Toot N' Totum at Lakeside and I-40. I'll admit I've had my share of food from truck stops and for the most part it's the usual fare of fast food or roller items but barbecue? You got my attention. Let's dig in!
When you walk in, you have the usual attributes of a gas station but looking towards the back, you find the cutting board in all it's glory behind a glass wall with a friendly meat cutter ready to take your order. To watch the slicer practice her craft with the knife is like watching magic happen. Cut after cut each slice leads to the thought that soon, barbecue bliss is coming to your plate. I went for two things that I use to judge a stand quick, brisket and pork ribs. Generally speaking if they can't handle either well.. get out quick. there is nothing there that will please you.
The Sides
Of course no two meat plate isn't complete without a side. One thing that did bother me a little bit was one side on the two meat plates. The chips themselves were good and I opted for beans, there are plenty of great other choices like fried okra, green chili mac and cheese and cobbler as well. Round out your tray with banana or bread pudding, pie and brownies for dessert to complete the meal if you dare. Let's face it between the meat and sides, dessert is simply the fast track to the food coma that makes it all worth it and the perfect excuse for naptime.
The Verdict
Lets start with what was right here. The brisket was well seasoned. not overpowering and the bark was just right. for those of you who are big on the pull test it was just right easy to pull apart but not enough to fall apart with your fork. No sauce is needed but what they do provide compliments the meat nicely. The ribs were good as well. for you fall off the bone fans you won't find that here (and if it's done right you shouldn't.) What made it a little disappointing was something beyond even a pittmaster's control. The cut of ribs they served had a little less meat than I'd like, but you can only control so much of what comes off the pig. The seasoning was perfect and what was there easily came off the bone and was tender.
Of course there are plenty of condiments for your choosing should you need them.
If you're in a hurry the sandwiches have good portions and I'd highly recommend the stockpile which is their chips loaded up with chopped brisket and diced cheese. add jalapeños to the mix and you have what should be the Texan version of nachos. Prices are reasonable and they start serving at 8 until they are sold out and from what I hear it's often. visit their website for the menu which doesn't disappoint. It's not gas station food, far beyond that. true Texas BBQ served up hot and done right. I look forward to my next visit!
The Charm of Main Street and Downtown Borger, Texas
This once-lawless Wild West boomtown is now a quiet town of 13,000 nestled in the Texas Panhandle. Located 40 miles north of Amarillo and 13 miles from Lake Meredith, the city of Borger is your typical small town. Friendly faces and warm greetings will surround you as you stroll down Borger's Main Street--a trip we highly recommend you take at least once in your life time.
Every Time Jeopardy! Asked a Question About Amarillo
Amarillo might not be a bustling urban metropolis, but it most certainly is full of quirky characters, unexpected treasures, and historical gems that fly under the radar. It should really be no surprise that our fair Yellow City has popped up more than a few times on Jeopardy!
What's that? How many times is "more than a few times"? Well, take al look and see for yourself.