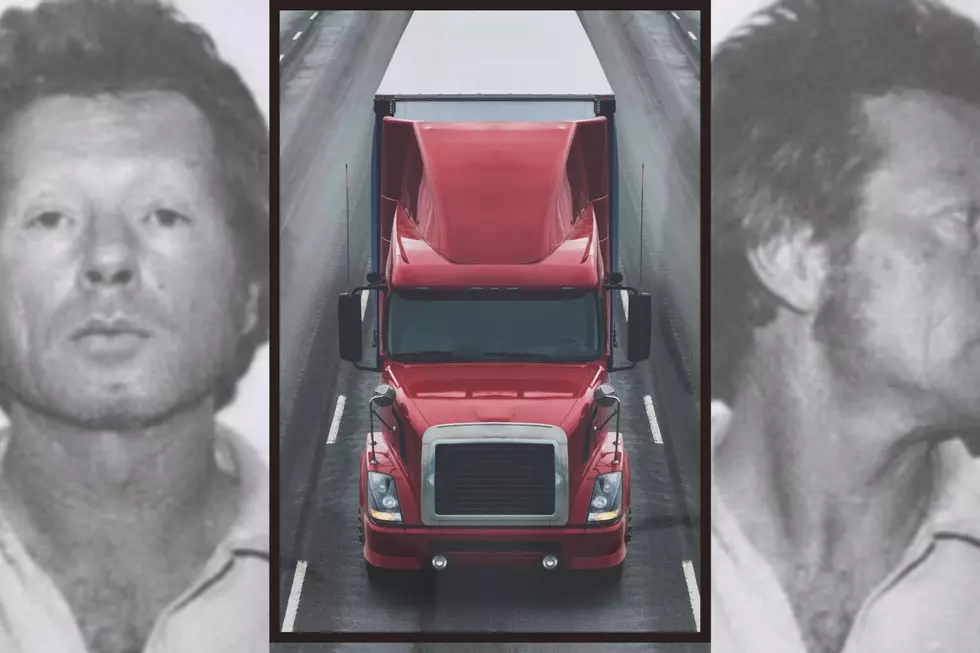 This Little-Known Serial Killer Was Busted in Amarillo
TDCJ/Sarah Clark
Originally published August 18, 2022, updated March 20,2023
Buckle up, I got a story for you.
I do a lot of digging around for story ideas. As you may have already noticed, I'm quite the fan of true crime--especially true crime and Texas Panhandle history. There's something to be said about unearthing a nugget of forgotten events. And this time, I've got some events that involve a little-known serial killer named Benjamin Herbert Boyle.
The Last Ride of Gail Lenore Smith
Gail Lenore Smith was a 20-year-old waitress from Ft. Worth who decided to hitchhike 300 miles west to see her mother in Lake Meredith.
On October 14, 1985, Gail's step-brother and sister-in-law drove her to a rest stop outside of Ft. Worth. As a safety measure, they waited to see which truck the young woman accepted a ride from.
The truck that Gail climbed into, they noted, was a cherry-red Peterbilt tractor-trailer with the words "JEWETT SCOTT, Truck Line, Inc., Magnum Oklahoma" on the side. As the truck pulled off, it would be the last time they saw Gail.
The next day, authorities in Amarillo were called out to the Canadian River bridge on a report of a nude body of a woman bound with silver duct tape found in the brush just off the shoulder of Highway 87. The body was soon identified as Gail Smith by her fingerprints. She had been raped, beaten, bound, and strangled to death before being unceremoniously dumped.
The Truck Driver, The Evidence, And Other Crimes
Once the identification had been made, detectives were able to get the description of the truck from Gail's step-brother and sister-in-law. An examination of truck schedules showed that one Benjamin Herbert Boyle had been the only driver assigned to the area that day.
Detectives located Boyle as he was transporting a load to Houston and questioned him. When shown a photo of the victim, Boyle readily identified her but claimed he had dropped her off near Wichita Falls (very much alive). However, a roll of silver duct tape was found in his truck--authorities were later able to confirm that the duct tape was identical to the tape Gail Smith was bound with.
With the physical evidence linking him to the murder of Smith, Boyle was taken into custody.
After his arrest, a review of his travels showed that he was a suspect in a rape committed in Canyon City, Colorado where the victim identified his photograph. He was then linked to a homicide out of Truckee, California--a Jane Doe victim was found on June 21, 1985, also bound with silver duct tape in the same manner as Gail Smith.
How To Stop A Bad Habit
As for his criminal history, Boyle proved himself to be a creature of habit. In 1979, he had attempted to abduct a young woman in Colorado Springs. She fought back-stabbing him several times with a knife she kept on her person. Boyle pled guilty to attempted kidnapping and spent five years on probation.
He went to trial in October 1986 for the death of Gail Smith. A Potter County jury took only three hours to convict him of capital murder; he was then sentenced to Texas' Death Row.
He was executed on April 22, 1997
Serial Killer? Technically, Yes and No--There's A Twist
Now, I only describe Boyle as a serial killer because other true crime experts have done so. So if you disagree with the terminology assigned to him, you should take it up with author Michael Newman who featured Boyle in his book Hunting Humans, The Encyclopedia of Serial Killers, (Vol 2)
However, I will say that you really should go do a little digging to prove me wrong. Because if you do, you'll find that there's a real serial killer connection to be found with Benjamin Boyle's crimes. You see, when Boyle was fingered as the killer of the Jane Doe in California, it was assumed that he was also responsible for another Jane Doe in the same area. And it wasn't until 1993 that the true killer was identified...or were they?
Here's a link where you can go down that rabbit hole.
Executed Death Row Inmates from the Texas Panhandle
The following individuals were convicted of Capital Murder for crimes committed in the Texas Panhandle (Amarillo and its surrounding areas) and sentenced to death by lethal injection. Read a brief summary on the area's executed Death Row inmates.
All information and photos have been taken from
TDCJ
and court records.
Amarillo Criminals On Death Row