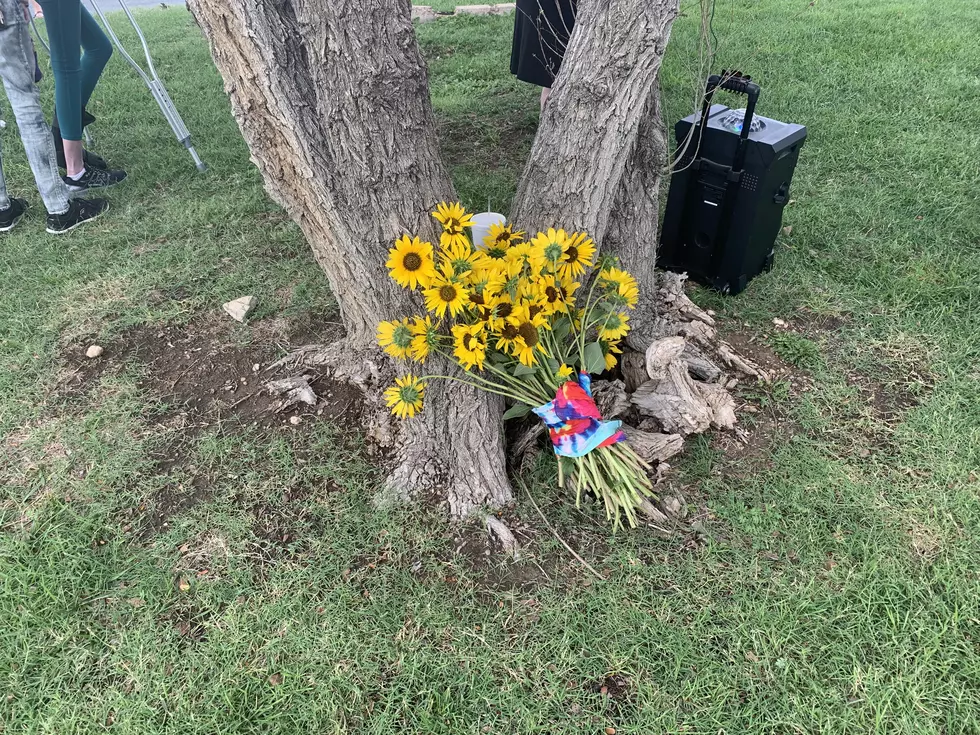 Amarillo Says Goodbye to Homeless Man Who Died Tragically
credit: Melissa Bartlett, TSM
It is an uncomfortable subject to many. The homeless population around town. You see people on almost every street corner asking for help. Sometimes they are just there and not asking for a thing.
That sometimes was the case of Lloyd McMasters, who tragically died on Friday in a hit-and-run accident. Sometimes he would just sit at an intersection not asking for a thing. He only asked if he really needed it.
Several stories have come out about Lloyd since the day he died. Scratch-off, was a nickname given to him because he loved the scratch-off lottery tickets. He was a man of very few words.
His death left an impact on Amarillo. On Tuesday Love in Action, a local group here in Amarillo held a memorial for Lloyd. Amarillo wanted to say goodbye. Over fifty stood in the St. Andrew's parking lot across from where he was killed.
During the ceremony, the organizers were asked if Lloyd's family was ever found. That answer was no but I bet Lloyd was looking down smiling that people cared enough to do something in his memory.
There were flowers also placed at the sight of the Memorial. People gathered to remember that even though Lloyd was homeless he was human. One of the messages brought that night was not to be afraid to look a homeless person in the eye.
Don't be afraid to say hi. My friend, Sherry, and I encounter several homeless people on our training walks around town. Sherry is training for Susan G Komen's Three Day walk, where she ends up walking sixty miles around a city over three days. We train several days a week.
We were training during Lloyd's memorial service so we decided to walk over and join in. While training we stop and chat with several of the homeless community here in Amarillo.
After leaving the service we decided to do something different. Yes, we continued to talk to the homeless we walked upon. This time I asked their names. So we chatted with Michael and Jimmy on our walk Tuesday.
Michael has the cutest puppy ever with very soft hair and the bluest eyes. Jimmy is a fabulous artist. We asked where he learned that skill and he said, "prison."
If anything positive came out of Lloyd's passing it's that people are more aware of how vulnerable the homeless are in Amarillo.
These Might Be the Most Dangerous Intersections in Amarillo
Traffic stinks.
These intersections stink harder.
Don't hesitate to sound off if we missed any. We're happy to add more Amarillo collision hotspots to this list of shame.
The Five Beautiful Murals Added to Downtown Amarillo
The HooDoo Mural Festival of 2021 means there are five more gorgeous works of art that can be seen in Downtown Amarillo. These gorgeous splashes of color and creativity are a sight to behold.