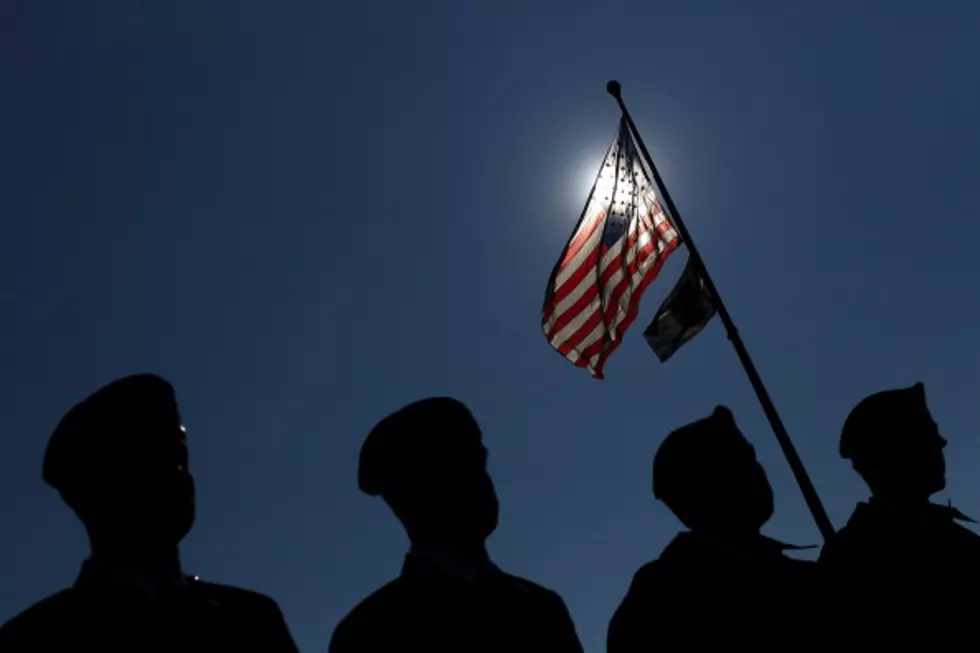 Free Stuff For Veterans! Here's Where To Go In Amarillo.
Getty Images
It's a day we should honestly have at least once a month.
Alas, it's a day we only have once a year.
Saying thank you to our veterans for keeping us safe is something we should do all the time. I know I do any chance I get. I wasn't brave enough to enlist into the military. Not because I don't love this country or anything like that, I just felt it wasn't for me.
These people have and do put their literal life on the line so we can enjoy the freedoms we have, so on November 11th we celebrate them. Business all over the country hand out free stuff to vets, and I hope they take full advantage of these things.
Here's a list of just a few places making sure our vets are taken care of on the day dedicated to them. These are all offers available on Thursday, November 11.
CHICK-FIL-A
Veterans with proper ID will get themselves hooked up with a little dinner. From 5-8pm, Chick-Fil-A will be giving all vets a FREE regular Chick-Fil-A sandwich, regular size waffle fries and regular size drink. Yes, that's the good ol #1 on the menu.
BUFFALO WILD WINGS
Vets and active military members will receive free 10 boneless wings and fries just for showing their military ID. You can eat there and enjoy a cold beer with it, or you can carry it out and enjoy it from home. Your call!
STARBUCKS
The big time coffee chain has taken it a step further. Vets can score themselves a free tall hot brewed coffee. However, they're also extending the offer to military service members AND their spouses. They understand what you endure as well.
OLIVE GARDEN
All vets and active military members can enjoy a nice pasta dish on the house at Olive Garden. They've prepared a special menu just for you to choose something from. Be sure to bring ID of your vet or military to snag the meal.
DENNY'S
Head on in to start your day with some free breakfast! All vets and active military members can receive a Build Your Own Grand Slam meal just for stopping in. You're gonna need a full stomach to go around and collect your freebies and savings!
ACADEMY SPORTS & OUTDOORS
Ok I lied...I said all these deals were for November 11 only, but this is the one special one. Going on right now through November 14th, active military members, veterans and their immediate family members can enjoy a 10% discount at the register. Taking it a step further, first responders are also included in this offer.
DOLLAR GENERAL
As if it wasn't already cheap enough to shop at Dollar General, vets, active military and their family members are going to score a 20% of their total by showing military ID. Seems like it would be a good time to stock up on a few things, right?
GREAT CLIPS
Just in time for the holidays, Great Clips is handing out free cuts to all vets & active military members on Veteran's Day. You can either have the cut done on Veteran's Day, or you can stop in for a free haircut card that you can use November 12-December 10.
HOME DEPOT & LOWE'S
Got some projects around the house that need to be done? Hit up Home Depot or Lowe's where all vets and active military members will catch a 10% discount at the register. With the cost of wood these days, any discount is certainly welcome.
SPORT CLIPS
Another free haircut on the list for vets and active military members. Sport Clips is doing things a bit differently though. You have to get the cut on Veteran's Day, but they'll be donating $2 per haircut throughout the day at ALL their locations towards the Help A Hero Scholarships.
13 U.S. Service Members From the Texas Panhandle Killed During the War in Afghanistan and Iraq
These 13 U.S. service members are the Texas Panhandle's native sons who gave the ultimate sacrifice while serving their country during the war in Afghanistan and Iraq.
We are honored to call them one of our own and we are eternally grateful for their service. As you scroll through the photos, we ask you to honor their memory and loss felt by their loved ones.
With honor and valor, we salute the 13 men of the Texas Panhandle who gave their lives for this country.