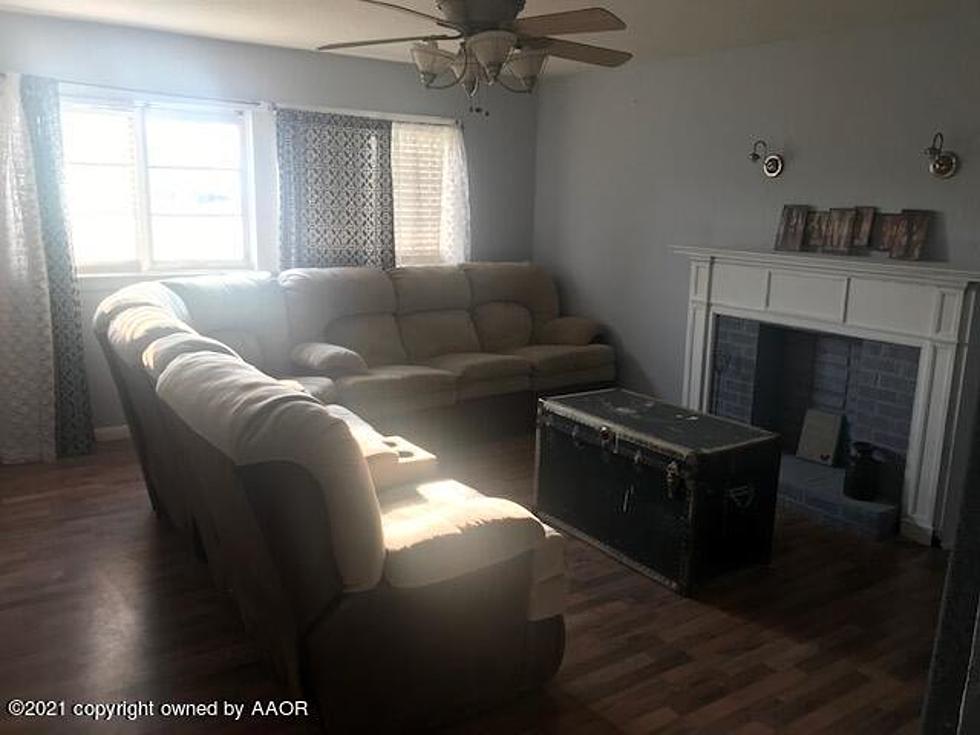 Time To Move? Here's 5 of Amarillo's Most Affordable Homes
AAOR/The Mark Andrews Agency
It's no secret that the housing market is a definite sellers market at the moment. Finding an affordable home that is big enough for your family can be a difficult task.
However, it doesn't mean there aren't homes out there for you to get your hands on at a good price.
I found 5 homes in Amarillo that are a decent size house, while having a bit of a lower price tag. Sure, they may be in need of a little TLC, but any home needs that to make it your own. Don't let a little updating run you off from an incredible deal. All of these homes are available as of the writing of this article. You ready to go on some tours? Let's do it.
1238 PECAN ST - $84,000
Here's a great little starter home for those families of 3-4 people. This home is found in the upper northeast quadrant of the city, across the highway from Wonderland Amusement Park. It's a 3 bed, 1 bath home that checks in at 1,222 sq ft. It sits on a MASSIVE lot though, 9,456 sq ft to call your own. Plenty of room to add things! The home itself was built in 1962.
Let's start in the front room where you'll spend a lot of your downtime. It's a carpeted main room with a wall you can mount a nice big TV on it. It comes with a bookshelf on the left hand side of the room where you can store your movies, books or just family photos. You can see there is plenty of space there for a fair amount of furniture, so you won't have to be overly choosy with what you end up with. There's also plenty you can upgrade in this room to really make it yours, and it won't take a whole lot!
How about we head to the kitchen next. Not the biggest kitchen, but there's still plenty of room in there for the chef in the family. It just won't be the place where 3 of you congregate. One of the great things about this kitchen is that it comes with dual ovens. You don't see this in a lot of houses, especially at this price. Huge win in my eyes! You may end up wanting to update the cabinetry in the kitchen, but another pretty easy and simply project that will bring so much to the home!
The home does feature a nice sized dining area though, as you can see. It can fit a good size table in there to have multiple people comfortably seated for dinner or any meal. Here's the spot for everyone to hang out while the chef is preparing the goods. It has a patterned floor to it that isn't too bad. You can change it to whatever your taste may be, but it appears to be in pretty darn good shape!
Ah yes, the moment you've been waiting for...a bedroom. They appear to be a pretty good size based on the picture. You can see there's a good sized bed in there along with a good sized armoire. Anytime you can fit those two things in a bedroom and still have ample space, you've got yourself a pretty good room.
On to the lone bathroom in the house. To me, this is really the only true downfall of the home. If it's just a couple of you, then the one bathroom thing is perfectly acceptable. However, you may find yourself fighting a bit to use it. It's not too bad of a space, but definitely not room for 2 people to be in there getting ready.
You can view the listing here.
923 HEATHER ST - $84,900
Here is a lovely 3 bed, 1 bath home spanning 1,086 sq ft. Also built in 1962, you'll find this home out near the fairgrounds and airport. You can see the beautiful brick work on the outside of the home. It's been maintained well and just has a classic look to it. Very good start to this home.
As we walk in the front door, we noticed the beautiful hardwood floors that invite you in. Obviously this portion of the home has already been updated, so it saves you some time and money right out the gate. Another good sized front room (especially for the size of the house) with a big wall to mount your TV on and save more space, it can fit a couch and love seat as you can see, but may even be able to fit a nice little sectional as well.
On to the kitchen! The kitchen also looks like it's gone through some recent updates giving it a much more modern look for the age of the house. The appliances in the room appear to be newer and updated as does some of the cabinetry. As with the last house, you won't be having multiple people in the kitchen with you while you work, but it's a solid size for the chef of the home to be in.
Moving on to the bedrooms. I've posted 2 of the rooms in the house because they both offer a very good look into the size of them. Normally in a house that is a touch over 1,000 sq ft, you don't get bedrooms with a lot of space, but this house was built differently. They've managed to get some very good sized rooms where you can fit plenty of furniture in them. You can see one room has 2 beds in it for a couple small children to share, and another that is setup as a nursery/play room for an infant/toddler. Very impressed here.
So here's another house with just one bathroom in it. Remember the bedroom sizes and how they seemed to be a very solid size? It looks like it may have come at the expense of the size of the bathroom. It's not TERRIBLY small, but you are definitely only fitting one person at a time in this bathroom.
The backyard is a big selling point with this house. The home sits on a 6,900 sq ft lot, and you can see that here in the backyard. There's a lot of space to do whatever your heart desires with it. Trampoline, big play set, batting cage for baseball. Whatever it is you're thinking, you can do it with this expansive backyard.
Own the home today by clicking here.
400 N. GRANT ST - $79,900
Here's a home that can be VERY deceiving when it comes to appearance. When you look at the front, you worry about it being a bit rundown inside. Don't be fooled. This is our first 4 bedroom offering and is also the biggest house we've seen...and it checks in with the lowest price tag as the only home under $80,000. It's also the oldest house we've come across, built in 1946. This is a 4 bed, 1 bath home that checks in with 1,568 sq ft. of livable space and sitting on a huge 8,400 sq ft lot. The location is awesome too as it's within walking distance to HODGETOWN. Let's head inside.
The front room is perfectly done. Updated hardwood flooring, a beautifully crafted 'faux' fireplace and a new fan finish off this front room. You can see how beautiful it looks with the right furniture in there, and it offers plenty of space to be cozy and enjoy your downtime. This may be my favorite front room of all the houses highlighted.
How about this kitchen?! It's hands down the most spacious kitchen we've seen yet and looks as if it's been fully upgraded. Electric flat top stove, 2 oven setup with stainless steel countertops for easy clean up and food preparation. The old rustic look in the cabinetry really completes the look for this kitchen. Multiple people can partake in the cooking fun here, while making your top chef feel like royalty.
Right off the kitchen, we have this HUGE dining room area. You can fit a table for kings & queens with this space. No seriously, you can see there's a couch in the dining room right? This is the perfect area for hosting family and friends with a big get together, and will make you the go-to when it comes to holidays.
We've made it to one of the bedrooms...and it's the first place in the house that could use a little updating. Now I don't want to take away from it, because it looks to be a pretty good size room. With so much of the house already remodeled for you, updating the bedroom won't take but a bit of time and some new fixtures. With the house seemingly having a theme, you even have a roadmap to use. Update this room a bit and it'll provide the serenity you're looking for.
The common theme here seems to be just one bathroom in all these homes. That said, this one seems to be the smallest out of all of them from what we can see. It also is going to need some updating to go along with the rest of the house, but hey, for how little you're spending on the house itself, this shouldn't be a huge undertaking.
One feature this home does have is a nice long drive and garage at the end of that drive. A lot of homes in this area find you with no garage and parking on the side of the street. Having your own dedicated area for your vehicles is a nice thing to have.
Steal this home before I do here.
2403 SW 3RD AVE - $84,900
Ok my little renovators, this one is for you. It's a bit of a different property as it could feasibly be used as either a home OR a business, but all the things are there for it to be a house. A 3 bed, 2 bath property that is 1,332 sq ft offers up plenty of space and creativity. What do I mean by creativity?
Well that's because it's in need of some finishing. You can truly make this home your own all the way around. When you look at the size of what is the front room, you can see there's more than enough space to put a large furniture set in it. Plenty of wall space to mount a large TV and a wide open option to decide what you want to do with the floor, this home will open your mind to your every desire when it comes to making it your own.
The kitchen appears to be very spacious. Once again, it's going to need appliances and countertops, but just think about the possibilities here. You can customize everything about it to make it your dream kitchen. I know my wife would personally appreciate that for sure.
Look at the size of this bedroom! You can fit yourself a nice king bed in there with a full on furniture set. You'll need to decide whether you want carpet or something else, and finish off those floorboards but a room this size has so much potential. I love thinking about what it could become.
Here's one of the bathrooms in this house. Yes, it's the first house we've come across that offers more than just one bath. It looks like a toilet and shower are already installed here, so you don't have TOO much you need to add in there. Find the type of sink you want to go with it, finish off the rest of it (such as flooring, etc) and you've got yourself a brand new bathroom that appears to be a pretty good size.
509 PITTSBURG - $85,000
Unfortunately, I couldn't find any pictures of the inside of this home, but I wanted to show it to you anyway. This is a 4 bedroom, 1 bath converted duplex. It spans 1,450 sq ft to live in on a nice 7,000 sq ft lot. It was built back in 1961 and offers a nice fenced in front yard, which is not something you see too often on any house. It really does give off a different sense of privacy to have that fence. According to the listing, it offers an isolated master bedroom (I kinda dig that) and a good sized backyard, which I can imagine since it's such a large lot.
Schedule a tour of the inside here.
2020s Most Expensive Amarillo Home
Check Out This $1.3 Million Home: 9 Valhalla Lane
This incredible La Paloma home is on the market for $1.3 million.
Fabulous La Paloma home! The floor plan features 5 bedrooms, 7 bathrooms, a 4 car garage and a wing with its own kitchen/butler's pantry that would be the perfect set up for a college-aged kid or in-laws....Each bedroom features a private bathroom and walk-in closet. Other features include a theatre, wet bar, office, luggage closet, room to install an elevator and outdoor patio!