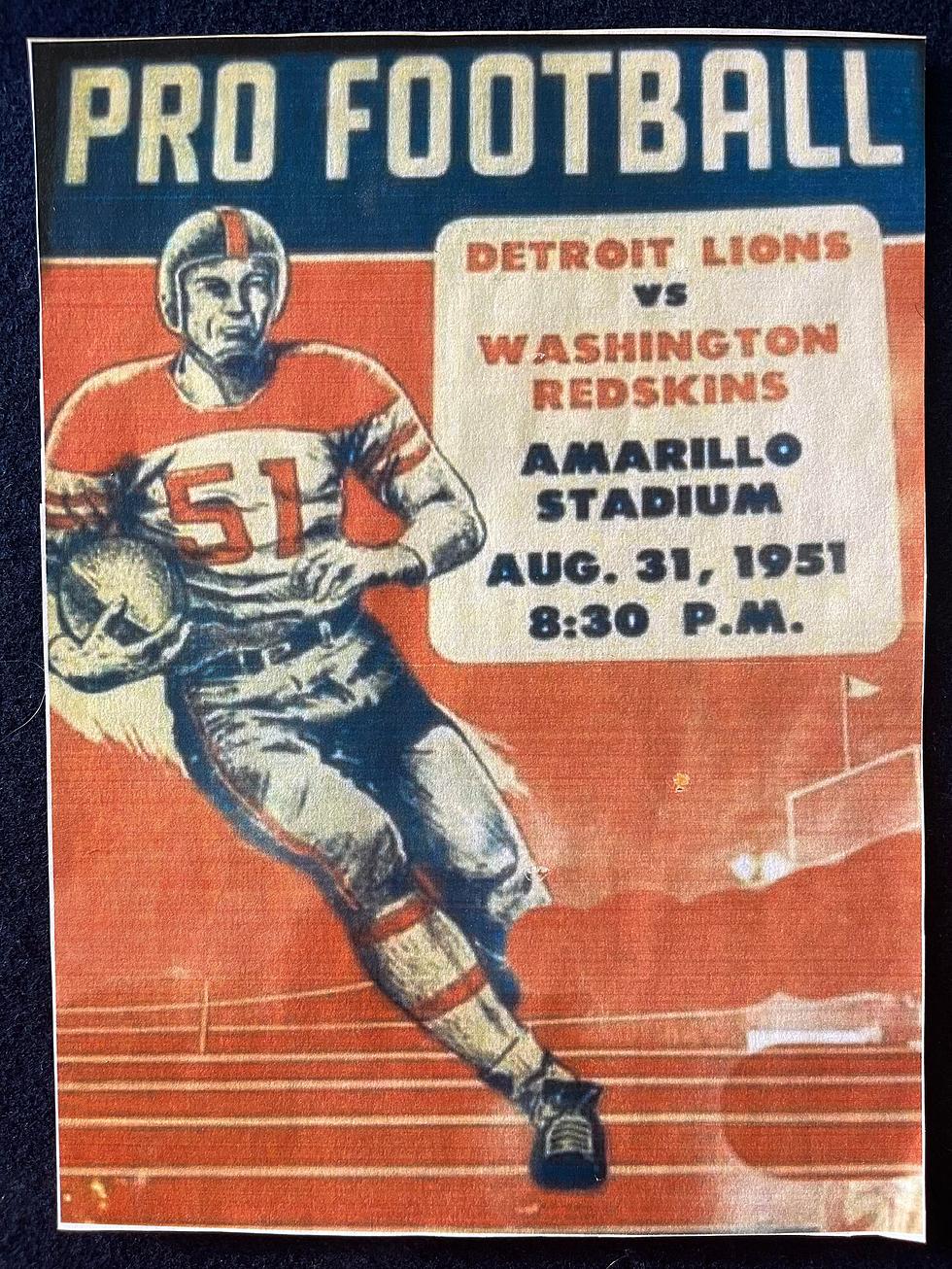 NFL Football In Amarillo? Story Of An Amazing Game.
James Fairchild
Amarillo is just a small city on the map of Texas, let alone the United States.
There's virtually zero chance we will ever get a professional sports franchise to reside here.
We love our Sod Poodles, it's the closest thing we've got to a professional team. I mean, they ARE the pipeline for an MLB team.
It doesn't mean however we can't get an exhibition game or something like that right? Amazingly it's happened, and it opened the door to yet another one.
It all starts back in 1948 when the city approved the building of a football stadium here in Amarillo. Initially, it was simply named Amarillo Stadium. You know it today as Dick Bivins Stadium.
Once the building of it was approved, the quickly got to work and by 1950 the city had it's very own football stadium.
Some pretty epic football games were played in that stadium shortly after it was built. West Texas State battled University of Arizona-Flagstaff on September 16, 1950. WT rolled them to the tune of 52-12.
A month later on October 14, the University of New Mexico came in only to get dominated by West Texas State, 45-6.
The college games were great, a chance for the community to gather and watch some football. The city wanted more though.
Efforts began on trying to bring an NFL game to the city, and they succeeded. They got the Washington Redskins and Detroit Lions to agree to come here and play a game.
This was huge, and brought in some of the biggest names in football at the time. Sammy Baugh, Doak Walker, Alex Karras. That's 3 future Hall of Fame players that were about to set foot in our fair city.
The game itself happened on August 31, 1951, just about a year after the stadium was completed and opened its doors. What a thriller Amarillo got.
The contest was won by Washington with a score of 10-7. Harry Gilmer (another Hall of Famer) scored what proved to be the game winning touchdown for the Redskins. The Lions got their only score on the heels of Bobby Layne...another Hall of Fame player that was a part of this contest.
That game proved to be such a success that the Lions came back to Amarillo the following year to take on the Chicago Cardinals. This game would prove to be vastly different from the defensive battle a year prior.
The Lions would emerge victorious in this one, decimating the Cardinals 28-13. And yes, more NFL stars at the time would be a part of this one. Names such as Frank Tripucka, legendary broadcaster Pat Summerall and a WT alum, Bill Cross would play in this game.
Amarillo has a pretty rich sports history. Are we big enough to get our own professional team? No, but it shouldn't stop us from trying to bring in these exhibitions more often!
Top 10: These Are Texas' Most Expensive High School Football Stadiums
There's a reason every good high school football movie is based in Texas. Here in the Lone Star State Friday nights are revered and our young men in football pads exalted to legends in their hometowns. In fact as of last year, Texas is only second to Florida (by two players) as the state with the most players in the NFL.
28 Epic Memes About the Big 12 Bustin' Up